From the archives to the air
the Wanji-wanji travelling corroboree
Working with the Gurindji people in northwest Northern Territory in 2015, Myfany Turpin and Felicity Meakins recorded a song called "Laka'. It turned out that this song is actually known halfway across the country, as Wanji-wanji, a travelling ceremony known widely across inland Australia. Our research located 10 archival recordings of it the earliest from 1955; as well as many references to it being performed across inland Australia. Today it is not regularly performed though it is still widely known and is associated with a bygone era.
This research project aims to bring the Wanji-wanji ceremony and Aboriginal people's memory of this ceremony to broader public attention.  Part detective story, part oral history, the story of the life and disappearance of Wanji-wanji still speaks to the modern world. How did songs travel from community to community in an age before audio recordings or radio? his well-known song attests to the vast social networks that spread across Australia, long before the whiteman's roads and telegraph lines worked their way into inland Australia.
Wanji-wanji is a journey through the modern history of Aboriginal people in outback Australia. Interviewing senior people from across the region who sing and recall this ceremony, as well as playing archival recordings to descendants of the Wanji-wanji singers of the past, the research team has covered great distances to document knowledge and memories of this unique ceremony and song.
Investigators
Myfany Turpin, The University of Sydney
Clint Bracknell, Edith Cowan University
Felicity Meakins, University of Queensland
Storymap Development and Archival Management
Jodie Kell (University of Sydney)
Film and Audio Production
Rob Nugent, Elle Frederickson, Shane Malcahey, Wanyima Wighton, Ben Deacon, Clarence Playford
Links
Article about Wanji-wanji in The Conversation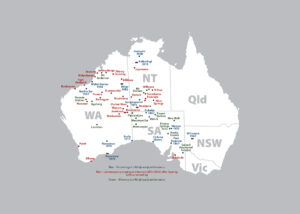 Regional Collaborators
Western Australia
Esperance: Sonny Graham, Annie Dabb
Pilbara: David Stock, Hilda Flann, Alec Tucker, Waka Taylor, Desmond Taylor, Barbara Hale, Wendy Hubert, Sheila Sampie, Charlie Coppin, Stephen Stewart, Irene Biwarli Roberts, Muuki Taylor, Nyari-Nyari Morgan, Milton Chapman, Nola Simpson, Joan Wilbourforce,  Lorraine Inje (IBN), Janet Stewart and Bruce Thomas (Wangka Maya Pilbara Aboriginal Language Centre), Annie Edwards-Cameron (IBN), Duke (KJ)
Kimberley: John Watson, Joe Brown, Elsie Dickens, Jean Tinghe Minga Napurrurla, Julie Lawford, Rita Minga, Suzie Gilbert, Betty Hunter, Winnie Coppin, Jessica Bangu, Anna Dwyer, Steven Kinanne, Anthony Watson (KLC), Wayne Barker (KALACC)  
Balgo & Bililuna: Jack Gordon, Marie Gordon, Patrick Smith, Marie Mudgell, Angie Tchooga, Jimmy Tchooga, Helicopter Tjungarrayi, Tom Ennever (University of Queensland)
Northern Territory
Alice Springs: Steven Kunoth Turner, MK Turner, Amelia Turner, Kathleen Kemarre Wallace, Alan Drover, John Cavanagh, Syd Strangways, Tommy Thompson, Shaun Angeles, Judy Lovell (logistics), Marina Strocchi (logistics)
Warlpiri region: Jerry Jangala, Harry Nelson, Lynette Granites, Lucy Nampjinpa, Alice Nampijinpa Henwood, Joe Bird Jangala, Michael Nelson, Paddy Willis, Robin Granites (translator), Peter Bartlett (logistics)
Anangu region: Nellie Patterson, Pantjiti Unkari McKenzie OAM, Iluwanti Ken, Josephine Mick, Tinpulya Mervyn, Angkurna Pantjardi Tjitiya, Anmanari Napanangka, Ginger Wikilyiri, Jill Kumantyayi Nakamarra, Martha Protty, Mick Wakilyiri, Nyiinku Kulitja, Nyinguta Edwards, Renee Kulitja, Tinpulya Mervyn
Tjarriya Stanley, Tjukapati James, Tjunkaya Tapaya, Toby Farmer, Carlene Thompson, Ngilan Dodd, Sammy Dodd, Maimi Butler, Inpiti Winton, Thomas Murray, Robert Woods, Glen Cooke, Anniwari Mitchell, Winston Mitchell, Pantjiya Nungarrayi, Harry Dixon Japanangka, Roy Yaltjangki, Bernhard Newbury, Bernhard Tjalkuri, Lucy Lester, Karina Lester (translator), Lizzie Ellis (translator),
Inawinytji Williamson (translator), Beth Sometimes (translator), Patrick Hockey (translator)
Victoria River Downs: Bill Harney, Ronnie Wavehill, Topsy Dodd, Peanut Pontiari Bernard, Thomas Monkey Yikapayi, Paddy Doolak Jangari, Banjo Ryan Lurlngayarri, Steven Long Jangala, Paddy Doolan, Timmy Vincent, Brenda L. Croft (Australian National University).
Pintupi region: Patrick Jungarrayi Ooladoodi, Bobby West, Bundy Rowe Tjupurrurla, Charlie Tjapangardi Warlampirri,  Cindy Gibson, Clara Rowe Napurrurla, Doris Bush, Douglas Malta, Dulcie Roberts, Elizabeth Marks, Eunice Napangka Jack, Frieda Brady, George Jungarrayi, Jeannie Pegg, Josephine Napurrurla, Josephine Brown, Linda Anderson Nantaya, Lyle Gibson, Napurla Scobie, Nayuma Napangarti, Noya Napurrurla, Pamela Tolsen Nakamarra, Phillip Lane Jampijinpa, Richard Pegg, Robert Nanala Tjapaljarri, George Lee, Xavier Tjapangangka, Rubilee Napurrurla, Tatuli Napurrurla, Mitjili Napurrurla, Gerrard Anderson, Griselda Giles, Ena Napangardi, Marlene Spencer, Fred Myers (NYU), The Purple House.
Jessie Bartlett (translator),
NSW
Norma Dutton, Dorothy Whitton, Jacqueline Dutton, Julie Finlayson (ANU), Jeremy Beckett (University of Sydney), Jeremy Long, PARADISEC
 South Australia
Salote Bovoro, Clara Stockigt (University of Adelaide), Paul Monaghan (University of Adelaide), Deanne Fergie (University of Adelaide)
Special thanks to
Tom Holder, (Pitjantjatjara Yankunytjatjara Media),  Jeff Bruer (Pintubi Anmatjere Warlpiri Media and Communications), Clara Stockigt (University of Adelaide), Paul Monaghan (University of Adelaide), Julie Finlayson (ANU), Peter Bartlett, Paul Taylor, Penny MacDonald, Rebecca Smith.